AIR DUCT & HVAC CLEANING
BY SOMA MEDICAL (SM) IN AFFILIATION WITH IAQ DIAGNOSTICS (ID)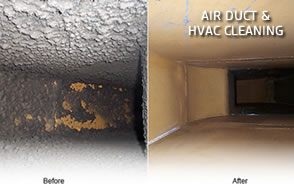 This NADCA seal is a sign to our customers that 
we are the top company in the HVAC industry and that our staffs' are trained to the highest qualifications
.
SM & IAQ Diagnostics utilizes award winning patented robotic technology and we follow strict standards based on NADCA ACR 2013 standards for Assessment, Cleaning & Restoration of HVAC System. This standard, produced by NADCA, is used only by registered members of the organization to ensure that HVAC systems are professionally cleaned. Air conditioning systems act as the "lungs" of the building and it needs to be maintained not only for cooling but more importantly the cleanliness of the HVAC system and its air ducts. Over time, contaminants such as building debris, dust, hair, animal dander, fibers from clothing and carpets, pollen, tobacco residues and many more accumulate inside the ducts and on the cooling coils resulting in growth of bio-film, mould and bacteria that is well documented as a major cause of respiratory illnesses and triggering asthma attacks.Air ducting system, which has not been cleaned and remediated between 3 – 5 years, increases the usage of Energy and creates "Sick Building Syndrome". Primary air filtration in a HVAC system does not stop dust particle & microbial build-up in the air condition ducts.
We provide advanced robotic solutions that cater to various types of industries and their processes.
Air Duct Inspection utilizing robotic video imagining technology
Agitation & duct contamination removal utilizing patented dirt extraction technology
Air Duct Sanitization & Antimicrobial treatment utilizing approved by Environmental Protection Agency & Department of Safety & Health
DATA CENTRE DECONTAMINATION
YOUR DATA CENTRE IS AT THE HEART OF YOUR BUSINESS. KEEP IT HEALTHY!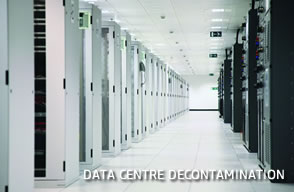 Data Centres and Computer rooms are without question the heartbeat and engine room of any organisation. Unplanned downtime will cause major expense and disruption to your systems and operations, not to mention the potential loss of valuable company revenue.Data Centre cleaning schedule is a crucial first step in the process to protect against equipment and system failures caused through contamination. Hardware manufacturers are now dictating that IT critical environments are maintained to a very high level of cleanliness in order to ensure their equipment is only exposed to the very minimum of contamination. It has now become vital that a data centre receives an efficient schedule of care to minimise the risk of unplanned downtime. This will in many cases include floor void cleaning, ceiling void cleaning, floor tile cleaning, external rack cleaning, internal rack cleaning, A/C units, PDU's, high level cable trays, trunkings, doors and ledges. In some instances it may be necessary to perform an initial deep clean in order to ensure the facility is brought up to an acceptable standard of cleanliness before regular standard service cleans are performed. Floor void cleaning is a crucial factor to any controlled IT environment as this helps remove the risk of dangerous traces of contamination from circulating throughout the room and equipment. Machine cleaned vinyl floor tiles will provide a safe non slip surface to walk and give the room that 'clinical clean' appearance. From our vast experience a room that is maintained clean and tidy will often result in less staff turnover while providing a safer all round working environment for both operators and equipment!
Data Centres and Computer rooms mainly house rows of racks containing an assortment of business critical equipment. Dust and contamination will cause extreme problems if not correctly addressed. All accessible surfaces of equipment are vacuumed using triple stage filtration equipment and wiped where necessary with anti-static cloths. Clean dust free fans and vents will help reduce power consumption and also help address cooling issues.
Data Centres and Computer rooms are often designed to suit each customer's individual requirements, therefore making each room and environment unique. Our approach to the cleaning operation is to treat every environment on an individual basis. Regular cleaning schedule will be a major step towards protecting and ensuring the smooth efficient operation of your systems.
KITCHEN EXHAUST & DUCT CLEANING
OUT OF SIGHT IS NOT OUT OF MIND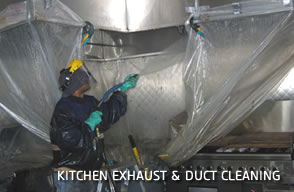 Cleanliness and fire safety are essential ingredients of every well-managed kitchen. At the heart of the matter is your kitchen extract system, the perfect landing place for grease, oil and other deposits. Kitchen Exhaust & Duct Cleaning for commercial kitchen should be compulsory for all food production outlets in Malaysia to ensure that their kitchen exhaust system is free of grease and other flammable products that might cause a fire.
Soma Medical & IAQ Diagnostics provide deep cleaning and certification of the kitchen exhaust system in commercial kitchen, in Malaysia. We understand that our client have different needs, we have established a flexible approach to avoid financial implication of closing their business during the cleaning process. Our cleaning takes places out of regular operating times. We can perform cleaning during evenings, after closing hours, early morning or even during weekends.
What Do We Clean?
We clean the most stubborn and hard to reach places not covered in your regular kitchen exhaust cleaning.
FOUL ODOUR REMOVAL
WHAT DOESN'T KILL YOU, IF LET BE, WILL EVENTUALLY!
Foul smelling odours are caused by a mixture of chemicals released from proteins, bacteria and organic matter and if left untreated they will multiply and spread further. This leads to the odour intensifying making it increasingly difficult to contain and eliminate. Environments such as factories, houses, retail outlets, commercial premises, healthcare establishments and food preparation areas can all suffer from problems with malodours. Offensive smells are not only off-putting for your employees they are also unpleasant for your customers. Failure to remove unpleasant odours can have a negative effect on productivity, profitability and the reputation of your business. Our removal service provides a rapid and cost effective solution for areas suffering from foul smelling odours. We identify the source of offensive odours and quickly and efficiently neutralises and eradicates the pungent smell leaving a fresh and clean smelling environment.
FIRE & FLOOD RESTORATION
REDEFINING GRAVITY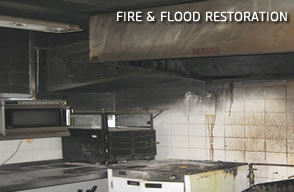 Fire & Flood
Fire damage to your personal property can be very traumatizing. Once the shock wears off and the fire is out you're left with three distinct damage possibilities. Even after a small fire, soot and smoke can contaminate everything, the flames themselves can consume everything from curtains and furniture to whole walls and floors, the water used to extinguish the flame may cause corrosion, mold, and mildew growth and may even be a bigger problem than the fire. To get your life back as soon as possible you need a quick response from well trained, well equipped personnel with the latest knowledge in cleaning, deodorizing, and the ability to coordinate the removal of contents and the damaged material. At Soma Medical & IAQ Diagnostics we have experienced project managers, a fully staffed contents and structure cleaning division, and a construction division that knows just how far to go to be thorough. Our experience in fire restoration goes a long way in providing all the necessary knowledge and resources to restore your property and your peace of mind.
Water
Water is one of the most destructive forces when it escapes the confines of the plumbing or drainage system or enters the interior of the structure from the outside. The longer the structure or contents remains exposed and unattended the worse it gets. It has the potential of not only corrosion and disintegration but also of molds, mildews, and bacteria that over time may create a wide range of health problems to both the residents and workers in the damaged building. Whatever the cause or extent of the water damage, your house and its contents must be dried out quickly and effectively. From the moment you call, we can step in with the best solution to keep damages to a minimum. Soma Medical & IAQ Diagnostics recognize the dangers involved and thus is available to respond 24 hours a day, 7 days a week. By incorporating the science of drying, special training, and our immediate response, the loss is limited to just the affected areas and flood restoration time is minimal. Each drying project is unique and requires the training and equipment and strategy to do what needs to be done to remediate it in the most effective manner. Large losses and sensitive environments require special equipment including commercial drying equipment, generators, site supervision, and resources necessary to reduce business interruption and expedite the claims process.