The MediLite (previously known as SM Nano TiO2) is an amazing technological breakthrough! 
We combined an energy efficient light source with a TiO2 (titanium dioxide) coating to effectively help
in the elimination of airborne bacteria, mold, viruses, fungi, smoke and household odors.
This state-of-the-art technology is not only effective and easy to use, but is the most affordable way
to enjoy the benefits of TiO2's (titanium dioxide) phototcatalytic action. The TiO2 (titanium dioxide) photocatalytic action is achieved when combined with a properly balanced light source. This action reduces harmful microorganisms into harmless CO2 (carbon dioxide, which is expelled during the respiration process) and H2O (water), thus completely eliminating the microorganism, making MediLite  completely safe for humans and animals.
Benefits of  MediLite

MediLite is perfect for allergy sufferers, parents with young children, pet owners, smokers and 
anyone who wants a safe, natural, non-toxic way to help eliminate germs, smoke and odors without
the use of harmful, poisonous chemicals.
In addition, the MediLite  is far more effective, easier to use and more cost effective than the currently popular HEPA filters. A lot of people may not realize this, but HEPA filters merely trap airborne particles, they do not actually destroy harmful bacteria, smoke and odors as theMediLite  does.
Unlike standard incandescent bulbs, the MediLite  emits virtually no heat.
MediLite  eliminates the growth of airborne pathogens, smoke and odors
MediLite fits virtually anywhere a standard incandescent bulb can be used.
MediLite is so energy efficient that it pays for itself, saving the user an average of RM50 in energy consumption over the life of the bulb (lasts up to 8,000 hours — 8 times longer than an average light bulb).
At 25 watts, the MediLite gives off the same light output as a regular 60-watt incandescent bulb.
 MediLite is environmentally friendly, too, eliminating the need for poisonous chemical aerosol sprays, which are harmful to humans and animals, as well as the ozone layer.
The warm color of the MediLite  bulb replicates that of a standard incandescent light bulb, not the blue-white color normally associated with fluorescent lights.
MediLite does not have to be left on continually to be effective.
TiO2 (titanium dioxide) bulb lasts for 8,000 hours. That is 8 times longer than your traditional incandescent light bulbs!
Must I leave the light on 24 hours a day?

No, even intermittent usage helps eliminate airborne bacteria, mold, viruses, fungi, smoke and household odors.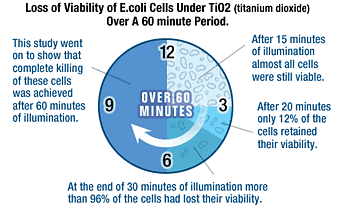 For example, anindependent study on the loss of viability of E. coli cells under TiO2 (titanium dioxide) photocatalytic reaction showed that after 15 minutes of illumination almost all cells were still viable; however, after 20 minutes only 12% of the cells retained their viability. At the end of 30 minutes of illumination more than 96% of the cells had lost their viability.
Read more about TiO2 Photocatalysis for Organics. This online article provides you with a breakdown on the current uses of the TiO2. Click here.