OPERATION OVERVIEW
UVC Cleaning Systems uses four (4) external UVC sensors mounted on the outer surface of the device. These sensors measure the reflective and direct energy produced by the mobile UVC device. A reading is taken every one (1) second; calculates an accumulated energy threshold.
Device turns off and signals the operator "Treatment Complete" at the predetermined energy threshold level.
A fifth UVC sensor is mounted in center of the top assembly facing down measuring the amount of UVC energy produced by the number of lamps in the product.
This sensor takes a reading every one-second measuring the efficiency of the UVC lamps. The system is calibrated to achieve a log 4 or greater reduction of Clostridium Difficile (C. diff) on all high touch surfaces and to treat an area 23' x 23' = 529 square feet (6.7m x 6.7m = 44.89 square meters) with a single placement.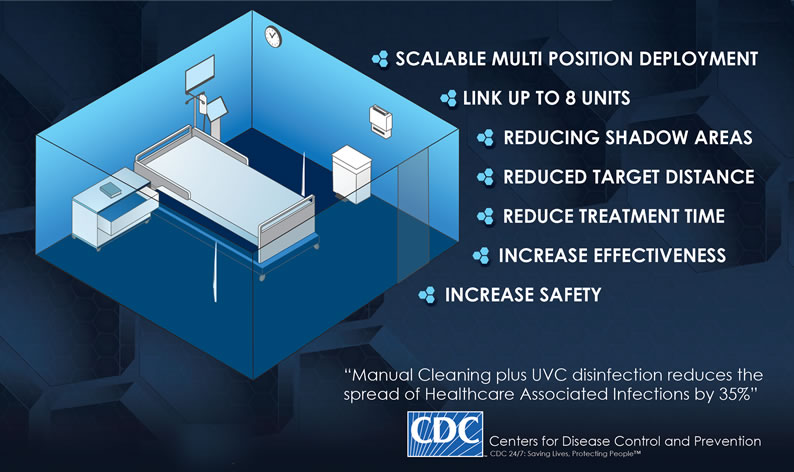 UVC Cleaning Systems devices have been designed to outperform competition in many areas.
Competitive features are measured for performance, reliability, and cost to compete in the UVC disinfection market.
UVC Cleaning Systems equipment has been built for the operations of environmental services groups within healthcare facilities.

Machine status is indicated on all sides of the device coupled with a simple three button remote control. These simple operations minimizes confusion and ensures a safe, fast, and effective UVC treatment.
To read about on how to place your products and type of disinfection process, click here to the "Download" section to read on our product guide.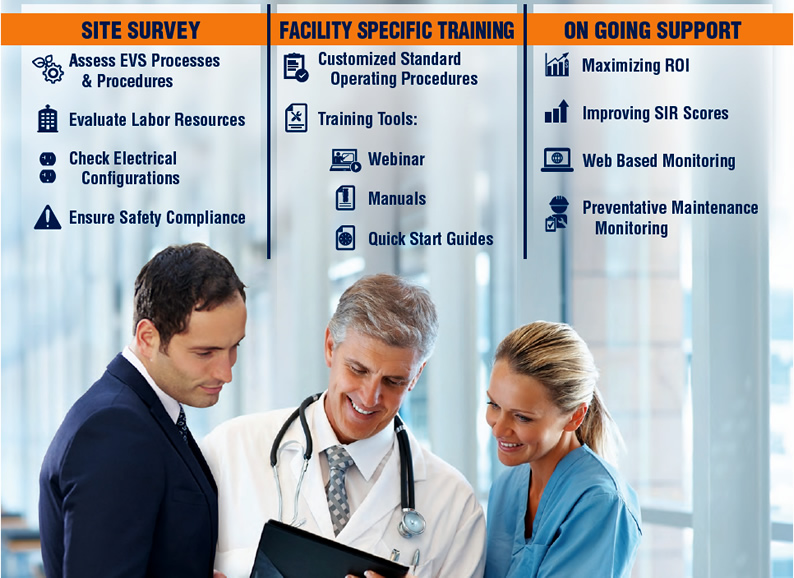 APPLICATIONS


UVC Cleaning Systems has taken a different approach to create more robust designs that are effective for hospitals as well as other environments. These devices can be used in laboratories, food processing plants, hotels, cruise ships, athletic facilities, out patient surgical centers and many other environments where harmful pathogens exist. Linked or single devices provide whole room treatment where pathogens exist.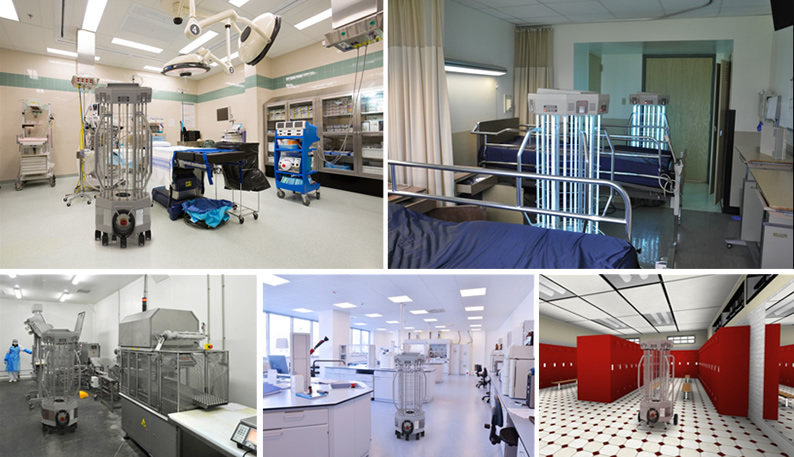 DOWNLOADS
Click below to read more about the product (please install the latest Acrobat PDF Reader)